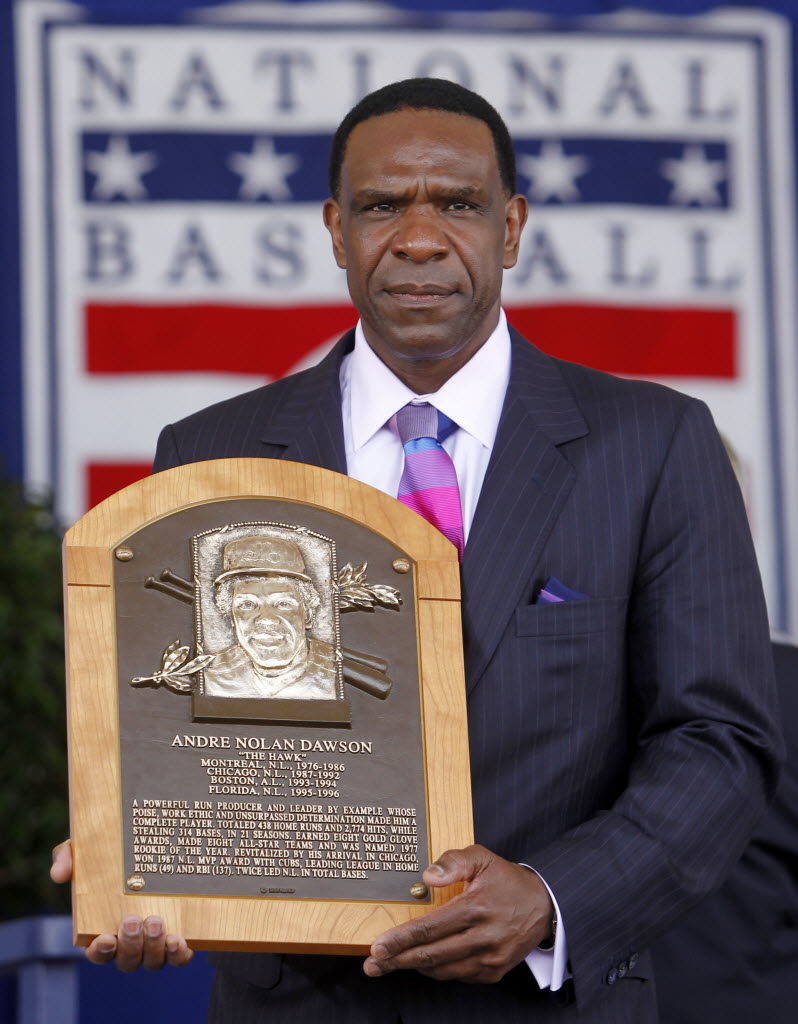 The 53rd annual Red Smith Sports Award Banquet will honor Major League Baseball Hall-of-Famer Andre Nolan Dawson, aka "The Hawk" with the 2018 Scheels Sports "Nice Guy" Award. Each year, this Award is given to an athlete who has excelled at their sport on a national stage, all the while bringing great sportsmanship and honor to the sport. The presentation will be made at the Banquet on Tuesday, January 16, 2018 at 6:30 pm at the Radisson Paper Valley Hotel in downtown Appleton, Wisconsin.
Dawson was selected by the Montreal Expos in the 1975 draft and was voted rookie of the year in 1977. He left Montreal in 1987 as a free agent and played six years with the Chicago Cubs. In his first year there, Dawson led the league in with 49 home runs, won a Gold Glove Award and became the first player to ever win the league MVP while on a last place team. Dawson finished his career with 2,774 hits, 438 home runs, 314 stolen bases, making him one of only five players to achieve 400 home runs and 300 stolen bases. He was only the second player to do so, and sits among the elite company of Barry Bonds, Willie Mays, Alex Rodriguez and Carlos Beltran.
Despite twelve knee surgeries, Andre Dawson was and eight-time NL All-Star, received eight Gold Glove Awards, four Silver Slugger Awards, and was inducted into the National Baseball Hall of Fame on July 25, 2010. Cubs manager Don Zimmer spoke of Dawson, saying "I don't think I ever managed a greater player or a human being." Cubs teammate Ryne Sandberg campaigned for Dawson's induction during his speech at his own Hall of Fame induction ceremony in 2005 saying "No player in baseball history worked harder, suffered more or did it better than Andre Dawson. He's the best I've ever seen… He did it the right way, the natural way, and he did it in the field and on the bases and in every way."
The Red Smith Committee looks forward to honoring Andre Dawson with the 2018 Scheels Sports "Nice Guy" Award. Scheels Sports, known for their first-class customer service and world's largest selection of sporting goods, sportswear and footwear, has been a key sponsor for the Red Smith Banquet, helping in our support of youth sports programs, facilities, or special youth sports events.
For information about the banquet, sponsorship opportunities, or to purchase individual tickets ($65) or group tables, please visit our website www.redsmithbanquet.com, e-mail [email protected] or call Joe Ornstein at (920) 570-2536. Get immediate updates on the Red Smith Banquet by following us on Facebook or Twitter @RedSmithBanquet.